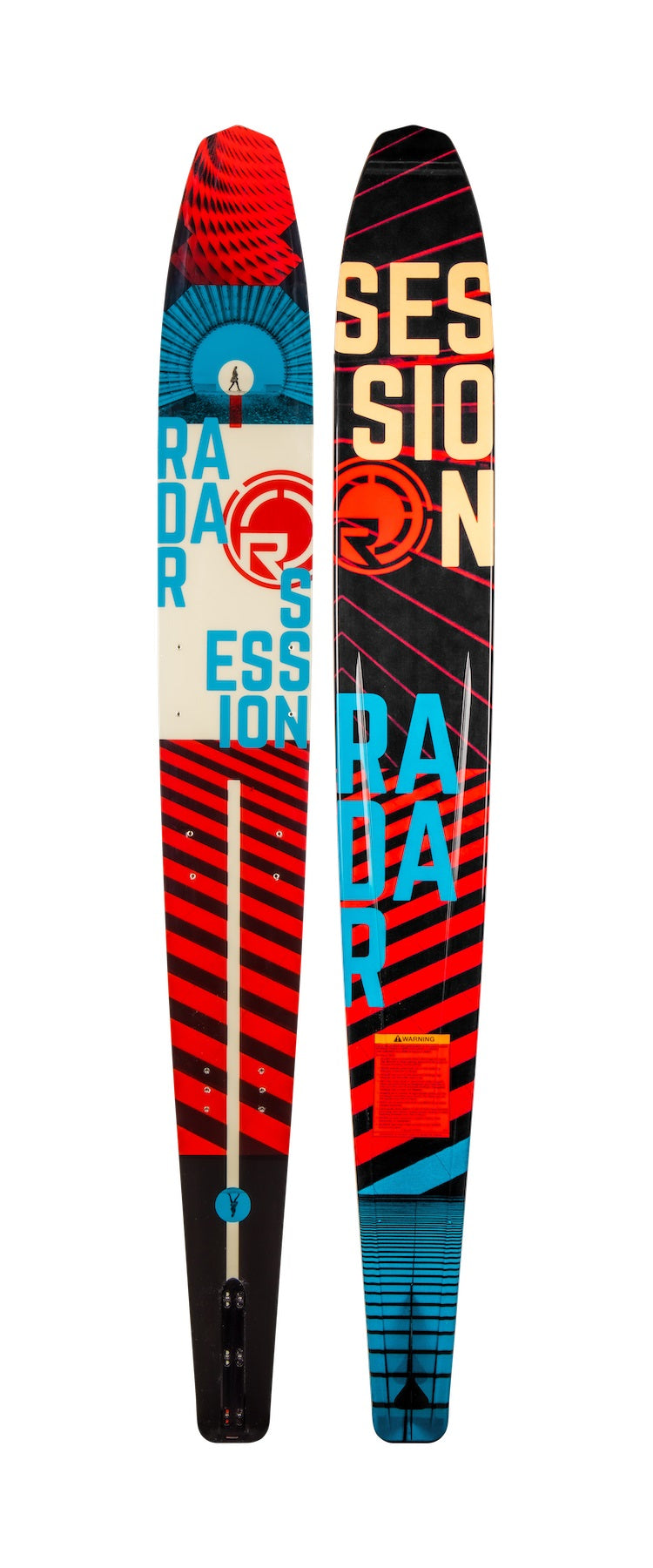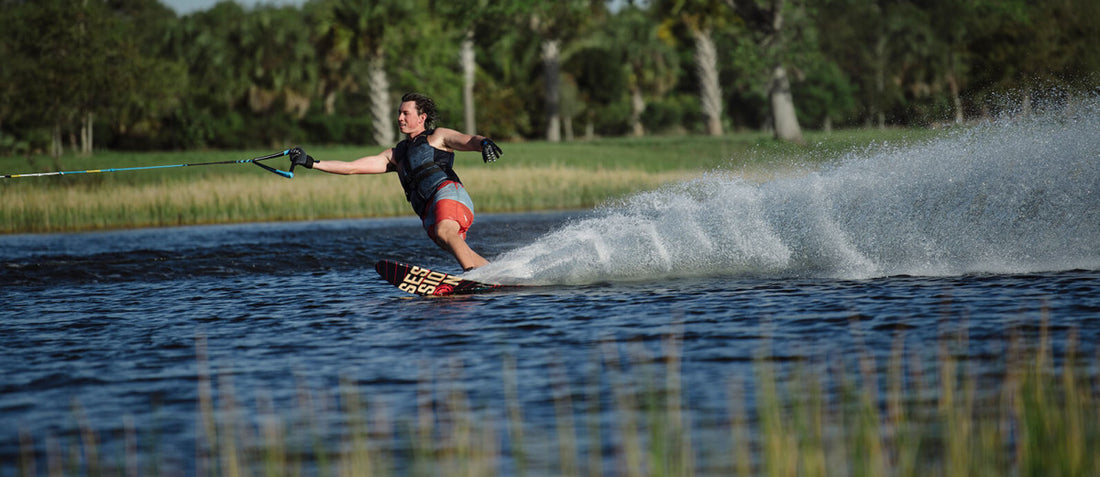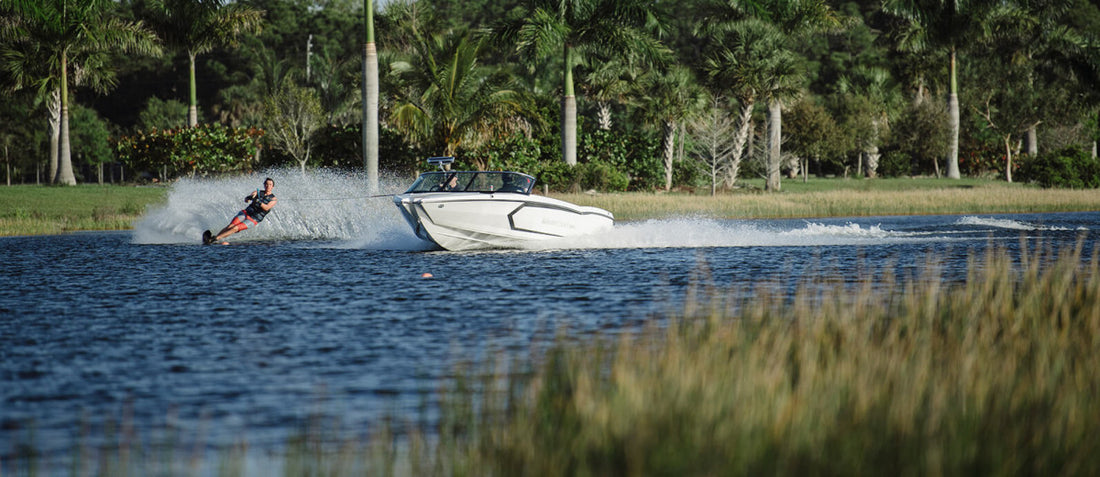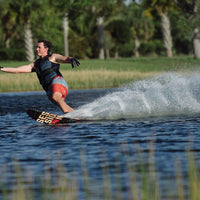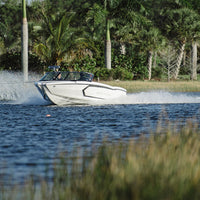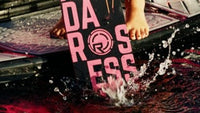 Sale
Radar Session Slalom Ski 2023
The Session was built with stability and ease in mind. With more surface area than we've ever created, getting out of the water is a breeze and once you're up, you'll feel like you're floating with the level spine and grip rails reducing drag. Our All-Terrain construction makes crossing wakes and rougher water simple and smooth. Like all Radar Skis the Session is built with 100% carbon laminates.
Our Open Water series allows skis with more volume to ski at a high level with superior balance and support. It's undeniable that surface area is your friend in skiing, it pops you out of the water with ease and it gives you the ability to float on top of the water. That surface area matched with our flat spine and the next evolution of Grip Rails has resulted in a ski that's even easier to ride and has less drag. The Sessions and Terrain will change the way you view a sheet of glass, go rip it up!
All-Terrain Core – Most forgiving construction.
100% Carbon Fiber - Consistent flex every time.
Grip Rails 2.0 – Allowing your ski to engage with ease.
Flat Spot
Open Water skis sport an oversized flat spot which allow the skis to auto-level. Skiers of any ability level can hop on a Session or Terrain and feel instantly at home due to its balance on the water.
Straight Lines
The straight lines built into the Open Water series allow the ski to carve more continuously and let the ski roll on edge more naturally. This combined with our updated grip rails make for the most effortless and smooth lines you've ever dreamed of skiing.
Grip Rails 2.0
The evolution of our grip rails was aimed to allow the ski to engage much easier. These angled rails also force water to the center of the ski increasing lift and decreasing drag. What you'll feel is effortless flow and ease of turning.
Level Spine
Open Water skis have a flat spine directly down the center of the ski. This allows water to flow cleanly down the center, reducing drag and making it possible to make endless turns without tiring out.
| SIZE | SURFACE AREA | MAX WIDTH | SUGGESTED MAX SPEED | TERRAIN | RECOMMENDED WEIGHT |
| --- | --- | --- | --- | --- | --- |
| 65" | 416.13 SQ" | 7.76" | 30 MPH | OPEN WATER | Up to 160 lbs / Up to 73 kg |
| 67" | 442.13 SQ" | 8.00" | 30 MPH | OPEN WATER | 130 – 190 lbs / 59 – 86 kg |
| 69" | 468.92 SQ" | 8.24" | 30 MPH | OPEN WATER | 175 – 230 lbs / 79 – 104 kg |
| 71" | 482.51 SQ" | 8.24" | 30 MPH | OPEN WATER | 220+ lbs / 100+ kg |
Most of our products qualify for free shipping to most places in Canada when order totals are greater than $100. To learn more about our free shipping offer click below.
Over-the-top excellent customer service from Craig and the team at Buckeye Surf. I love dealing with them.

Mike N.
Amazing experience! Picked up our pontoon boat rental from the dock, it was nice and clean and the staff was very friendly. Will be back to rent again! So much fun on the water. Would highly recommend.

Andrew L.
Everything was spot on! Amazing with quick responses to questions, fast shipping and great prices. Thank you!

Jerry S.
Great selection and the staff are very friendly and helpful.

Luis A.
Buyer's Guides
Our comprehensive buyer's guides are designed to assist you in navigating the world of watersports equipment. Whether you're a seasoned enthusiast or a beginner ready to dive into the exhilarating world of watersports, having the right gear is essential for a safe and enjoyable experience.
See Buyer's Guide